This page is mainly for US operations, see below for links to international operations pages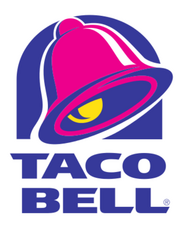 Taco Bell is an American chain of fast-food restaurants based in Irvine, California. A subsidiary of Yum! Brands, Inc., they serve a variety of Tex-Mex foods including tacos, burritos, quesadillas, nachos, other specialty items, and a variety of "Value menu" items. Taco Bell serves more than 2 billion customers each year in more than 6,500 restaurants mostly in the U.S., more than 80 percent of which are owned and operated by independent franchisees.
Founding and growth
Edit
Taco Bell was founded by Glen Bell, who first opened a hot dog stand called Bell's Drive-In in San Bernardino, California in 1946 when he was 23 years old. Six years later, he sold the stand and opened a new one two years later, this time selling tacos under the name of Taco-Tia. Over the next few years Bell owned and operated a number of restaurants in southern California including four called El Taco. Bell sold the El Tacos to his partner and built the first Taco Bell in Downey in 1962. In 1962, he sold Taco-Tia. Kermit Becky, a former Los Angeles police officer, bought the first Taco Bell franchise from Glen Bell in 1964, and located it in Torrance. The company grew rapidly, and by 1967, the 100th restaurant opened at 400 South Brookhurst in Anaheim. In 1970, Taco Bell went public with 325 restaurants. In 1978, PepsiCo purchased Taco Bell from Glen Bell.
In the late 1970s, Taco Bell introduced the Bell Beefer, sloppy joe like with taco-seasoned ground beef on a hamburger bun with cheese, lettuce, and tomato. The Beefer was removed from the menu in the late-1980s to keep a strictly Tex Mex-inspired line up.
Several locations in the Midwestern United States were converted from Zantigo, a Minneapolis, Minnesota-based Mexican chain which PepsiCo acquired in 1986.
International operations
Edit